Enquire Now
Warehouse Relocations
Pallet Racking Relocation & Installation Service
Display And Rack are experts in large warehouse re-locations. We can take the frustration out of moving, providing a simple solution based package to suit any size business.

Regardless of shelving layout, racking design or the type of product, we can quickly re-locate your company, minimising any disruption to trading.

We have a unique system for re-locating steel shelving, and can demonstrate a time saving technique that has proven itself many times. We can provide references of many customers that have benefited using this system.

We have a team of professionals that understand deadlines and can work around normal business hours to provide the smoothest and most efficient re-location available.

Contact us for a quote and site inspection on 02 9755 3343

Some clients that have been re-located by us include:
Fuji Xerox - 670 Double bays in 3 days.

Allstates Diesel - 250 Bays of Shelving in 2 days, with stock on shelves.

Plumbers Supplies - over 30 warehouse designs, fit outs.

Complete Office Supplies - design of 220 bays of rack, 3000 pallets and 300 bays of shelving.

Academy Transport - relocation & Supply storage system for 9500 pallets to 10.5m high.

Trivet Classic - design & supply two 500SQM structural Mezzanines and storage system for 45,000 storage archival boxes over.

Atkins Carlyle - design & supply 2000SQM structural mezzanine, 3500 pallet rack storage system & relocated 2000 bays of shelving & 1500m of conveyor.

Sebel Furniture - design & supply several 3 level mezzanines 2500 SQM for 53000 stacking chairs and supplied and installed stock picker guide rail system 6km in length.

Recall Data - storage relocation of 2060 storage shelving bays in four days.

Nissan & Raymond - designed and installed 300SQM mezzanine in 3 days and relocated 200 bays of shelving.

Power Lift (Aust) - relocated stock from a mezzanine in 1 day
​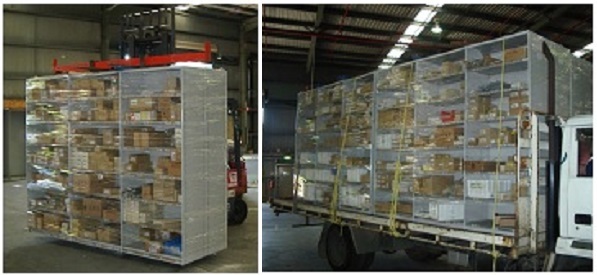 ---
Pallet Racking, Mezzanine Floor & Storage Systems
Efficient design and workflows of warehouse environments play an integral part in cost efficient warehousing and supply chain solutions. Display & Rack works closely with you to determine the best warehouse racking workflow solutions to suit your product, your warehouse and your individual business needs.
Making the most of your warehouse floor plan, Display & Rack offers the right systems to maximise your return on investment, such as selective pallet racking, drive in pallet racking, cantilever racking, mezzanine storage floor levels, work benches, packing benches, warehouse Long Span shelving and warehouse bay shelving.
We understand the requirements of specific business needs and their storage rack requirements. Display & Rack products and installation adhere to "Steel Storage Racking" AS4084 codes to ensure your business complies with all workplace safety standards and requirements.
Call today on 02 9755 3343 or contact us now to make a no obligation appointment to find a warehouse storage solution that is right for your business.